Districts
Up to six districts per installation. The best way to explain this is that six Sheriffs can run their offices using one server, or one Sheriff can have five ad hoc districts, each being a stand alone entity with unique debtors, cases, reports etc.
Help
Some windows have context sensitive help available. This means that when you use help from that window, you will get help on that window. If context sensitive help is not available then we are available via TeamViewer to help and train as required.
Bar Code Scanner
Support for bar code scanners reading code 39 bar codes, which are printed on registration slips and optionally on returns as well.
SMS
In order to be able to send SMS's you need to open an account and purchase credits with an Internet based company called WinSMS. They can be sent from many places in the system. The sending of SMS's is subject to permission settings.
Codes
Although you can use them if you so wish, you do not need to know any codes or account numbers of any nature. Wherever a code or account number is required you are provided with a list, drop list, or a Window for visual selection. Codes are then passed in the background. This is a very powerful feature of this software and makes it extremely user friendly.
Finding Cases
The extremely powerful Search window allows you to find specific cases quickly. It's a pleasure to use because its very visual - and fast. This window is used in all the places within the system where a specific case must be pointed to, like when you want to make a new return etc.
Deputies
Unlimited. Add new deputies as and when required.
Number Of Cases
Unlimited. As long as there is hard disk space.
Registration of new cases
Unlimited. Add/edit/delete cases and print slips. Also issue lists and lookout functions. Option to print a document when a specific type of case is used. Option to send a complimentary email notification.
Returns
Full house editing of all components of a return. Creating and changing returns is subject to permission settings.
Easy to use and user friendly interface.
Correct faulty registration data as part of making a new return.
Return content editing supports HTML format such as bold, italic, underline, fonts, font size and font colour. This can optionally be disabled.
Visually select already defined content for the body of a return.
Inventories can be inserted into the words.
Return content has no maximum length. You can create multiple page returns.
Supports any twelve cost items from user definable cost description list.
Supports user defined cost groups. A cost group contains twelve cost items. Cost groups can be bound to a type of case. When making a return that uses that type of case the correct costs will thus appear
Supports user defined number of copies required per individual return. Copies per return are: original, tax invoice, file copy and can be printed in any user defined sequence.
Supports printing returns immediately after they are created or later using the print queue window where powerful grouping options are available.
Supports emailing a new return to debtors with valid email addresses.
Has a preview window for viewing the completed return and optionally exporting it to file in almost any format.
Completed returns can be recalled and edited.
Receive payments
EFT's and cash. Receiving payments is subject to permission settings.
Apply payments to cases
Cases must be made paid. Applying payments is subject to permission settings. Very visual and user friendly window. Manual (individual selected cases) or automatic (from the oldest until holding funds run out) crediting supported. Partial payments supported. Uncredit a single case or a batch of cases supported. Delete payment and transfer payment supported. Pay out any fraction of a payment supported (as when case costs adjusted after a dispute and case was already made paid). Very powerful.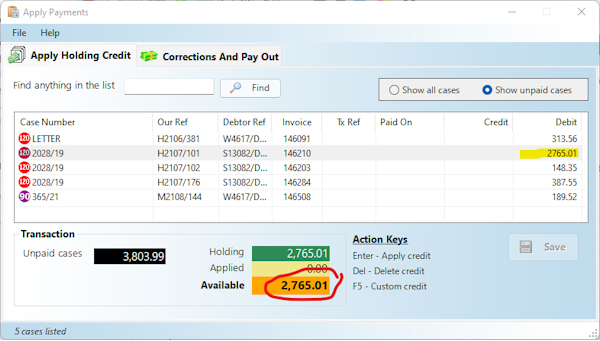 Statements
Statements always reflect the exact status of the account as it was when the statement was created. Messages (defined by you) can optionally appear on statements. Statements can be sent to the screen viewer where they can be exported in any file format to other applications, or to the printer, or the email sub system. When sent by email, the attached statement will be in .pdf format.
Query System
Query a debtor account or a specific case directly from the main screen window. It can't get easier than that. When you execute a query a floating window containing multiple tabs is launched. The tabs expose all known detail on the debtor or case. Because the main screen is always available you can do queries without having to exit whatever window you are busy with. A query window can stay open behind other windows, or it can be minimized on the task bar until it is needed.
Dispatching System
Dispatching returns is subject to permission settings. Can be turned on or off. If turned off then Sheriff SQL automatically takes care of dispatching. If turned on you basically have your own post office and are responsible to dispatch returns manually. Although manual dispatching is addition work, it will ensure that the printed returns are identical to the data. It sometimes happens that operators change the content or costs of a return AFTER it has been printed. This could result in legal problems for the sheriff. When executed properly, the dispatching system ensures that this can't happen.
Commission System
The commission system is based upon what percentage of each cost item is paid. If 0% is paid then no commission is payable on that item. Anything between 1% and 100% is the commission paid. The deputy thus receives commission subject to the setting of each cost item.
Reports
The reports window is divided into three tabs to group the types of reports logically. There are Routine reports. Month End reports and Yearly reports.
Other Windows And Features
System Settings
Statements
District Settings
Machine Settings
Inter District Search
Month End
Undo Last Month End
Pay VAT To ROR (receiver of revenue)
Send Email To Debtors
Write Off Debtor Accounts
Re-age Debtor Accounts
Credit & Debit Notes
Delete Cases
Transfer cases between debtors
Transfer cases between deputies
Types Of Cases
Cost Groups
Party Titles
Cost Description Lists
Served In Terms Of List
After auction Distribution Calculator Utility
Change Your Password
Suspend The System
Download The Latest Update
View Your Pro Systems Statement
Read Online Notifications